Nullarbor Traveller: Birdsville Big Red Bash 9-Day Outback Adventure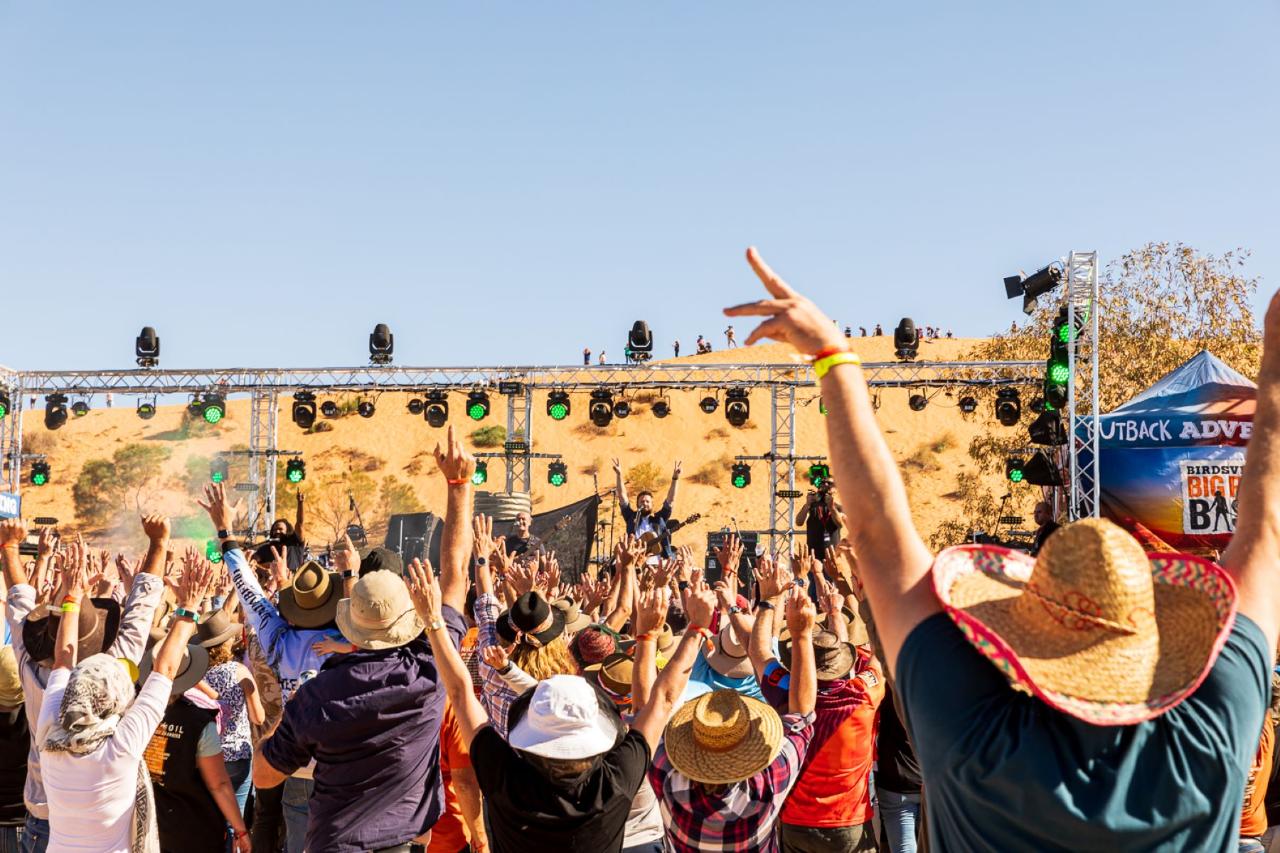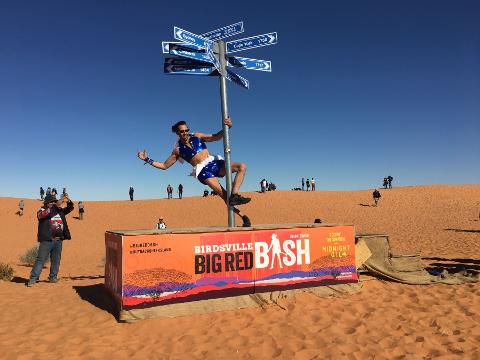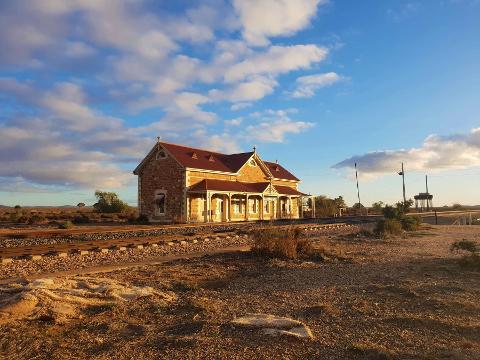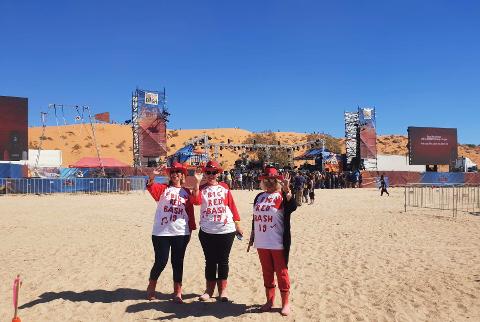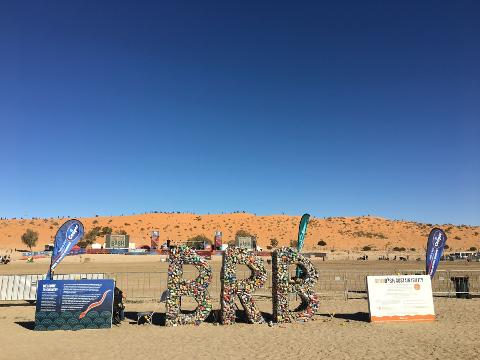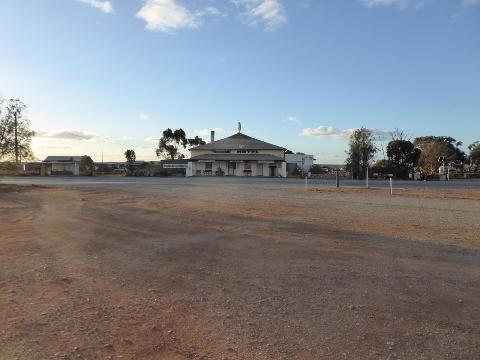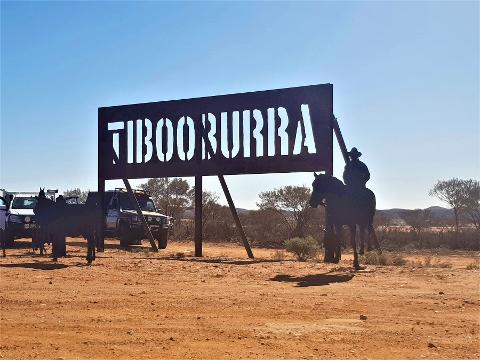 Kesto: 9 Päivät (noin)
Paikka: Adelaide, SA
Tuotekoodi: BRB9
OVERVIEW
Every July the world's most remote music festival takes place in Australia's Simpson Desert at the Birdsville Big Red Bash. Thousands of people from all walks of life come together to experience three days of great Australian music and unique entertainment, set amongst a surreal backdrop of red dunes under a star-speckled canopy.
After making this epic road trip to the festival in 2019, it has been our Manager Jason's dream to share this unique experience with others, so he set about creating this incredible 9-day outback adventure from Adelaide to Birdsville. Travelling through South Australia, New South Wales and Queensland this tour stops at some of the most remote towns in Australia where you'll be supporting the local communities and meeting the local characters that make outback Australia so special.
The 2021 Big Red Bash line-up includes Aussie legends Paul Kelly, Ian Moss, Tim Finn, John Williamson to name just a few. Get involved in all the other events on offer such as sunrise yoga, the world record attempt for the Nutbush, sandboarding or the air guitar competition. Food is plentiful with a large variety of food trucks, and at the end of each day, there is nothing like kicking back by the fire and sharing stories from your day with your new friends.
HIGHLIGHTS
• The Big Red Bash (stating the obvious)

• Travelling through remote outback Australia – an epic bucket list road trip
• Meeting like-minded music lovers from all over the world
• Have breakfast served up to you every day
• Your entertaining and professional guide
• Kicking back around the campfire at the end of an awesome day
WHAT'S INCLUDED
• General admission ticket to the festival (available without entry)
• All breakfasts from day 2
• 8 nights camping
• Camping equipment including swags, tents, chairs and small cooler bags
• Nullarbor Traveller special edition t-shirt
• Transport – air-conditioned minibus (max 20 people)
• Professional tour guide
FULL ITINERARY
Day 1 (Sat) - Adelaide to Tibooburra
Depart Adelaide Bus Station at 6 am with the first stop at the small town of Burra where we'll stretch the legs and grab a coffee and snack if so desired. Midnight Oil fans will get goosebumps when you see the Burra Homestead - iconic as the cover of the Diesel and Dust album. Crossing into New South Wales, we pop into Broken Hill for a lunch stop before the last 300 km stint on the road to Tibooburra. Set up camp for the night and enjoy a cold beer and counter meal at the local pub. Your guide will escort you back to camp.
Today is the biggest day of driving clocking up 850 km.
Day 2 (Sun) Tibooburra to Windorah
After breakfast, we pack up camp, crank the tunes and get well and truly off the beaten track and travel into our third state in two days! Travelling 228 kilometres of dirt roads through Queensland's outback, we stop off at the small village of Noccundra to stretch the legs before arriving in Eromanga. Not only the furthest town from the sea in Australia, but this tiny town is also heralded by scientists as the most exciting and prolific dinosaur site in Australia.
We then follow the Cooper Development Road and head to Windorah. Located in the heart of the Channel Country, it features the beauty of Coopers Creek and the intrigue and colour of the red sandhill country which surround the town. Set up camp for the night and meet some locals at the pub where we have a meal.
Today we travel approximately 680 km.
Day 3 (Mon) – Windorah to Birdsville
As we pack up camp, the excitement is starting to build. Today we make our last stint on the road before arriving in Birdsville, on the edge of the mighty Simpson Desert. Around 280 kilometres today will be on dirt, but it's all worth it! On arrival in Birdsville, we'll set up camp and enjoy a cold beer in the
iconic Birdsville Hotel, soaking up the electric vibes!
Today we travel 360 km.
Day 4 (Tues) The Big Red Bash Begins
After brekky, we'll make our way to the festival site and set up camp in
the Bashville Campground. Then it's time to immerse yourself into the
world's most remote music festival. Aside from incredible live music from 1 pm – 8 pm every day, there is plenty of other activities and entertainment to keep you busy for the next three days! From the world record Nutbush attempt to sandboarding. There are also lots of food trucks to suit all tastes. At the end of the day, nothing beats a quiet drink around the campfire with your new friends.
Day 5 (Wed) - The Bash continues

If you are so inclined, you can get involved in sunrise yoga before enjoying a relaxing start to the day as your guide cooks you a hearty breakfast. Today you will get to see the Great Drag Queen Race and pull out your best moves in the air guitar contest. Jump onboard a helicopter flight or do some dunny door painting.
Day 6 (Thur) - The Bash Finale
Feeling right at home in your new happy place, after another breakfast cook up, it's time to rock out to all the big-name acts as they hit the stage and make this a day to remember. As the festival comes to an end, head back to camp to chat about your favourite bands and moments of the Big Red Bash!
Day 7 (Fri) - Birdsville to Noccundra
If you're not feeling a bit rough today, you haven't done the Big red Bash right! After breakfast, a Berocca and coffee, we slowly pack up camp and begin the journey back to reality. We head back out through Birdsville to Windorah for a lunch stop. Before we drive on to the small village of Noccundra to set up camp on the Wilson River, you will be able to purchase dinner at the local pub close nearby.
With 780 km to travel today, you'll be able to catch up on some sleep!
Day 8 (Sat) – Noccundra to Broken Hill
Waking up to the birds chirping today is a stark contrast of the last few days. After breakfast, we'll head for the frontier mining town of Broken Hill, via Tibooburra for a lunch stop. We'll retrace our journey along the long dirt road arriving in Broken Hill in the late afternoon. We'll have our last dinner and talk about the fantastic time we had on our Big Red Bash adventure. Tonight, we stay in a caravan park so you will be able to have a good shower and relax.
Today we travel 580 km.
Day 9 (Sun) – Broken Hill to Adelaide
We'll pack up camp for the last time and have our final stint on the road stopping off in Burra for lunch before arriving back into Adelaide mid to late afternoon. It's time to say farewell to your guide and new best mates and start making a plan to do it all again next year!
Today we travel 520 km.
IMPORTANT INFORMATION
Departure: The tour departs Adelaide Bus Station at 85 Franklin Street at 6 am sharp. Please be there 10 minutes prior.
Child Policy: This charter is not suitable for children, and the minimum age is 18 years old.
Rates: If you want your own tent, you must pay the Single Traveller rate. If you already have a ticket to the BRB, you can purchase the tour less the cost of the festival ticket.
Meals: Breakfast from Day 2 is included and includes a mixture of — cereals, toast, fruit, juice, tea and coffee. Some mornings pancakes, bacon, sausages and eggs will be served. Please advise of any special dietary requirements at the time of booking.
All lunches and dinners are at own expense. We will be stopping at cafes and hotels along the way. At the Big Red Bash, there is a variety of food vans.
Drinking water: Our trailers will be fitted with water tanks with water for drinking only.
Camping: This is a camping tour, and participation and involvement are required from all passengers. Three-person dome tents are included as well as a swag.
Swags: When camping, we use individual swags. Swags are 'Aussie Bed Rolls' made from sturdy canvas with a mattress built into the swag. Passengers need to provide their sleeping bag and pillow to insert into the swag.
Alcohol: The Big Red Bash is BYO. It's a good idea to purchase and label your alcohol beforehand. It is a requirement that you bring cans as glass will NOT survive the dirt roads and is not allowed into the festival site. (The driver will take no responsibility for broken alcohol.) Usually, at night, we will visit a local pub so we can put money back into these small communities, so take away alcohol won't be permitted to be consumed there. We will supply ice and coolers to keep drinks cold. On the concert days, we will provide you with a cooler bag to take drinks in. Please do not bring eskies as space will be limited in the trailers.

Cask wine is an option, and if you drink spirits, you can get a large drinking water container and premix your spirits before you go to the concert. NO GLASS IS ALLOWED AT BRB stage area.
Please note. There will NOT be any alcohol consumed on the bus at any time.
What to bring: Personal belongings, sleeping bag, pillow, torch or head torch, towel, stubby cooler, rainproof jacket, appropriate festival shoes, wet wipes, hand sanitiser, refillable water bottle, insect repellent, hat, and sunscreen. It's also a good idea to bring snacks for the bus in your day bag.

There are no showers at the Big Red Bash so wet wipes are a must! The festival runs buses which take people into Birdsville if you need a shower desperately for around $10 per person.

Please be aware temperatures can drop to 0 degrees, so make sure you have an appropriate sleeping bag and clothing for these conditions.
What not to bring: Glass, umbrellas, tables, sunshades or anything that will obstruct the view of the stage, and aerosols are all prohibited. There will be bag checks as you enter the concert area, and prohibited items will be confiscated.

Luggage Restrictions: Bags are restricted to 1 × 15kg backpack/soft travel bag per person, plus one small piece of hand luggage.

Changes to Itinerary: Our experienced guides will tailor activities on seasonal conditions throughout the year to maximise your experience and enjoyment. Any deviation from this itinerary will be made with serious consideration and passengers' best interest and safety as our number one priority.
A couple of rules: Illegal drugs or inappropriate behaviour will not be tolerated on our trips. Our philosophy of travel is one of respect towards everyone we encounter and in particular, the local people who make our destinations such unique places. Everyone has the right to feel safe and secure on their trip. If you ever feel another person is misbehaving, please let your guide know straight away.
Travel insurance: We highly recommend travel insurance.

Safety: We will also have a support vehicle to help with equipment and meals. We carry a satellite phone to be used by our guide in the event of an emergency and for your safety. Also, all of our leaders are First Aid trained and certified.
Minimum Numbers: Nullarbor Traveller requires a minimum of 10 people to run the tour. If there are not ten people booked one month before departure, you will be refunded 100% of the ticket.
Cancellation Policy: Cancellations must be made in writing via email, and such notice is not valid until a response has been received from us. Cancellations 31 days or more will incur a 25% cancellation fee plus $530 for the festival ticket. Cancellations between 30 - 15 before departure incur a 50% cancellation fee plus $530 for the festival ticket. Cancellations 14 days or less before departure or failure to board the tour will result in a 100% cancellation or no show fee.
Terms & Conditions: Please read the full terms and conditions of Nullarbor Traveller and the Big Red Bash before booking your tour.